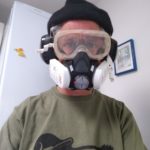 Mike of Loughton
Group: Registered
Joined: 2018-11-07

Rep Points: 7
Retired frustrated rock god. Not very talented guitarist so I make them instead. I have built 7 electric guitars. 1 from a kit and the rest to my own designs. They are all different.
Recently finished my first acoustic guitar while doing Mark's course. It is the best guitar I have built so far. Thanks Mark
Currently building a Spanish Guitar using Cumpiano and Natelson's book.