Arthur - the sort of Bandsman
That seems to sort it - upload file to GM and it displays correctly.
Will do that in the future.
Measure once........
Measure again.........
Sod it - make tea!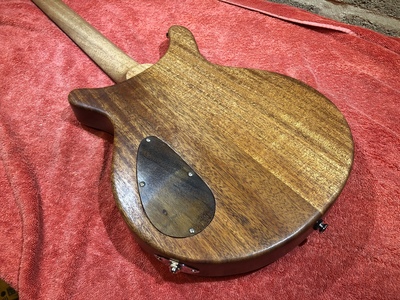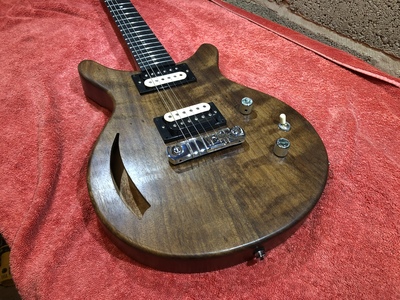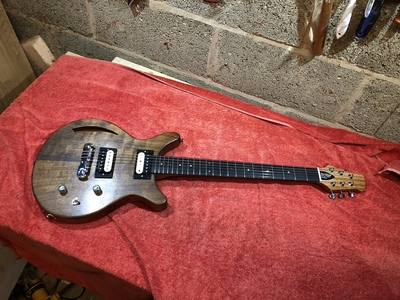 Arthur is just about finished.  
Very happy with how he has turned out - plays pretty well - a few tatty bits but I know what caused them.
Cheap router bits may have caused the neck joint problem.   A near to useless fret end file that only had one ground edge and only one useable edge.  Poor lighting - the workshop has a south facing window that provides good bright light on a sunny day but had most of the sanding had been done when it was dark - thought bits were nice and smooth but could have been better.   I have sorted these ready for Guinevere - the next build.
The set up was quite easy - truss rod needed about 1/4 turn, the bridge height was set and the nut needed a bit of a sand - will let it sit for a few days and check it again.
Bloody good course Mark !!!
Measure once........
Measure again.........
Sod it - make tea!
Bloody good course Mark !!!
Thanks Bill - Top JOB! That Cap looks gorgeous with the F-hole - the coverplate is a nice touch...
Glad to hear set up was easy - that is what we all hope for - HERO POINTS duly awarded!
Measure twice, cut once...
I am getting used to my new guitar - used a Free-Way switch (3X3-03 https://www.freewayswitch.com/products/ ) - it has two sets of 3 ways (ie six positions) the down ones give humbuckers and the up three single coils - this is my second switch because suppliers sent the wrong version - works well with the Wilkinson Humbuckers.
Will spend some time playing this guitar and also need to clean up all the wood shavings and sawdust in the workshop and put everything back where it should be before thinking of the next build....... 
This post was modified 7 months ago 2 times by
Bill Flude
Measure once........
Measure again.........
Sod it - make tea!
Been playing Arthur - might do some tidying and apply some more oil to the neck also have a little bit of fret sprout to sort.
Getting some good sounds - the pickups are Wilkinson - the humbucking sounds are all good - smooth neck and biting bridge - the single coil sounds give me a clear mellow neck and sharp bridge.   The most surprising sound is the middle single sound - it uses the inner coils and sounds like a Strat position 2 (although not reverse wound reverse polarity) Fender Twin sound with a bit of reverb and compression - Sultans time.....
The hunbucking bridge with dirt sings......
Just need to play better!
Measure once........
Measure again.........
Sod it - make tea!