Figured top with carved section
14/03/2022 8:11 pm
Topic starter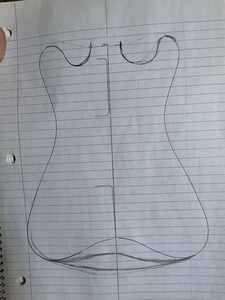 I have another body design I'm working on that's inspired by…,
a pickguard. 😂🤦🏼‍♂️ I know, go figure eh? I've attached a picture of my first drawing on notebook paper and the question is about the bottom of the front of the guitar. Notice the 2 lines that curve up into the body. The drop is 14mm and the length of the middle is approximately 55mm.
If I put a figured veneer on the top what would be the best method to cut or bend the veneer into the carve?