Small body acoustic size?
14/02/2021 10:56 pm
Topic starter
I have a shop bought guitar of the same size as Mark builds on his course, I find this is too big to be comfortable for me. Mark discussed smaller bodies on the livestream yesterday and suggested I put a drawing forward for scrutiny, so here it is.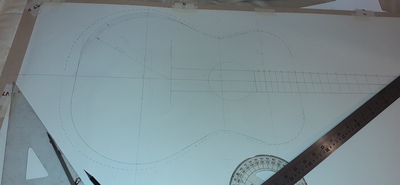 The outer dashed line is the template size from the acoustic course and the solid line is my scaled down version. Obviously after seeing some recent posts, I'm going to have to add a moon bevelled armrest to make it a little more difficult. I've also used a 25" scale length rather than 25.4", firstly because of the smaller body and secondly to keep it the same as the electric that I'm used to playing. The body of my shop bought acoustic is 94mm deep at the neck and 120mm deep at the fat end. The 120mm feels too big for me. This build will be the same depth throughout, what's the minimum it should be?
Before I go ahead and add braces to the drawing, does this any seem reasonable so far?
I don't know if it helps, but looking at some commercially available small model guitars from decent manufacturers, maximum depths are
Martin Dreadnought Junior 105 mm
Taylor GS Mini 113 mm
Emerald X7 114mm
Lowden S 105mm
Wee Lowden 100mm
There's obviously more to a specific tone than just the maximum depth but my first takeaway from this is that if you want a useable acoustic tone it seems that 100mm+ is what the pros have found they needed.
17/02/2021 10:52 pm
Topic starter
Thanks for your input. Apart from the scale length, comparing mine with the bootlegger, I've only really reduced the body length and lower bout width. I can decide on the depth further down the line. I'll draw in the braces next to see how that works out, but it's on the back burner now that it's not so cold out in garage and I can resume my current build #002.
I think reducing the rib depth would reduce the bass response due to the smaller sound box size, lower frequencies having a longer sound wavelength and needing a bigger box. You could compensate by trimming or scalloping the X bracing which would lower the frequency response. 
Some people call me a tool, others are less complimentary. Tools being useful things.
20/02/2021 4:01 pm
Topic starter
I've added the soundboard braces to my drawing now if anyone would like to cast a critical eye over it and offer an opinion.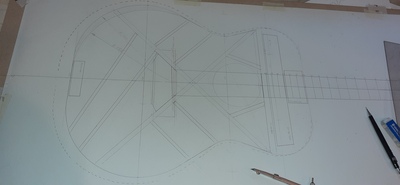 Hi Robin. Looks great. Looking forward to seeing the pics of the arm rest and seeing how you do it. Need to put some audio files of it up as well to see if the size makes a noticeable difference.
Are going to put in an under saddle pickup, as I would be wary of the pickup hole as it maybe very close to the cross brace if you drill it at a slight angle for the cable. I would be interested to hear @markbailey take on this and the armrest.
Quite rightly, you have drawn the soundboard braces on as you will see them during assembly BUT that means the arm bevel should be on the other side...(doesn't matter for the drawing/design purposes and I'm sure you'd work that out during the build like I did)...redraw it on the other side and you will notice that the lower face braces should be shorter. When I made mine I made the same mistake and had to carve the lower face braces away some more after gluing on the internal brace. I will try and get to this on the next livestream!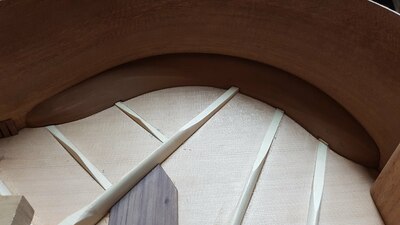 Measure twice, cut once...
Also good call @mikeyrjiom !
You should choose and get your pickup in advance to try and work out how it will fit - if you are have trouble fitting it between the X-Braces you could potentially angle the hole enough to emerge from the other side of the X-brace...
Maybe consider a soundboard transducer or one that sticks to the bridgeplate? 
Measure twice, cut once...