Look what I got today!
03/02/2022 6:29 pm
Topic starter
Ok not a question but I couldn't figure out where else to post this. 😁 I also had to tell y'all about finding a local (I live in a small town in the middle of Kentucky, USA) source of free Honduran mahogany. Seriously, it's free to me as its "scrap" to them. And there it is, "one man's trash is another man's treasure."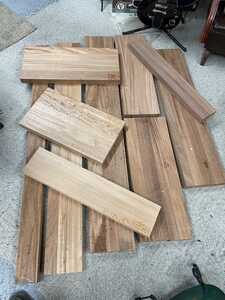 When they said I could have as much of it as I wanted I had to limit what I picked out because I was driving my wife's too-little-to-haul-all-this-wood vehicle. I am making a return visit on Monday though. 😁
That's amazing stuff man, good going. You're so lucky to find a place like that. I'm a little jealous I must admit. 
Make guitars, not war 🌍✌️🎸
10/03/2022 8:41 pm
Topic starter
BTW, I did go back the next week and took everything that was on the "scrap" pallet. 🙄😳 This was what I returned with to add to what is in the first picture I shared. I think I'm pretty set for guitar bodies for a while, a long while really, and several necks. By rough estimation I have enough wood to build about 6-8 complete guitars and another 7-8 bodies, maybe more.
I have seriously been blessed. Here's the back of my Chevy HHR after retrieving the rest of the wood.