Starting a nitro finish
Topic starter
19/03/2021 9:36 pm
Today finally  the weather conditions where good enough to start on finishing my latest built.
There seems to be some sort of a consensus that humidity is more important then temperature to decide if the weather is good enough to start painting. Some people say not above 50% humidity, others will say 60. 
Then I found this piece of information on this rather vintage-looking website
A general rule for spraying lacquer (or shellac) is don't spray if the relative humidity is above 65%. A more accurate guide is don't spray if the dew point is within 20 degrees of the ambient temperature. For example, if the dew point is 65 degrees and it's 80 degrees in your spray area, don't spray unless you use retarder. You need more than a twenty degree difference between the dew point and temperature to be safe.
So the dew point should be at least 7 degrees Celcius ( ~20 degrees fahrenheit ) lower then the environmental temperature.The dew point is actually a weird calculation with some fixed number I could not care about. You can find an online dewpoint calculator here
So I am starting with primer and I notice that after all that sanding and sealing, I still have minor little holes and dings, scratches, which I did not notice at all until I started to put the primer on ( see last 2 pictures )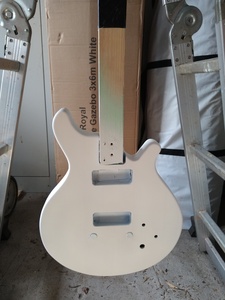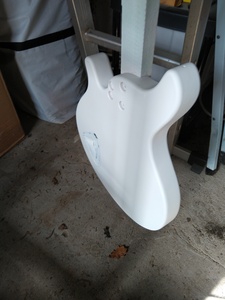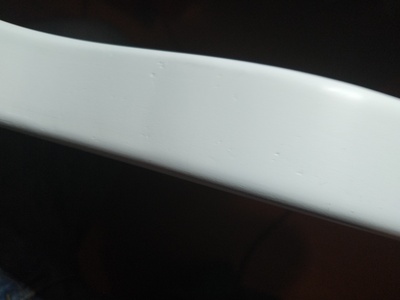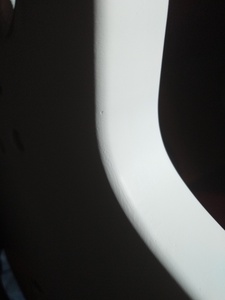 I also had some runouts, when I had the spray can too close to the body, I sanded those away this evening.
But I wonder, what my options are to remove this little imperfections.
Do I need to get rid of them now? or do I just go on with color?
It is nitro, so very thin layers.
If I need to get rid of them before applying color, can I try to fill them with sealer, or shellac, then continue with nitro color? or do I use filler?