Strap peg screw has stripped out - fixes
So, there I was swanning roon the hoose, with my restored, vintage US built Peavey Generation S3 chambered tele swung over my shoulder and hanging down my back.
And then, all of a sudden, the bottom strap peg screw stripped out and the guitar took a dive for the floor, head first.
Only these finely tuned, highly strung reflexes saved the guitar from catastrophe, because I was halfway up the stairs at the time.
I have a small collection of lengths of dowel, so I drilled out a 6mm hole and pushed in a piece of 6mm dowel. Of course, the dowel isn't perfectly circular, and I suspect the hole isn't either. The dowel is a tight fit further in, but there is an unsightly gap.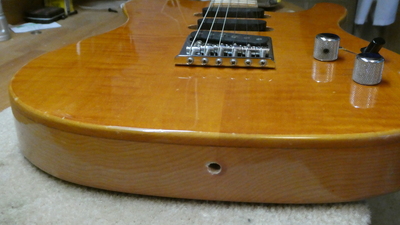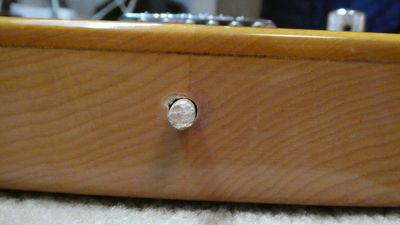 So,
a) I could flood the gap with superglue and drop in some sawdust but I'm not convinced that's going to be strong enough for my rock n' roll ways.
b) Drill out an 8mm hole and fit an 8mm dowel with Titebond. That would give me more surface contact between dowel and alder body and stronger support. Or would I just get a bigger uneven hole?
Other solutions invited!
Jack of all trades and master of my own destiny. It's only a small destiny.