Topic starter
20/11/2023 3:19 am
Finished at last, well ish lol. Found a high fret I missed, I often miss just the one. Anyway sorted that, still need to lower the nut a little too. Other thing is the string height is about 3mm at the 12th fret and the bridge is as low as it can go. Might either have to find another bridge that can go lower or recess the bridge.
Must admit though, it plays nice. Final vid will be up later today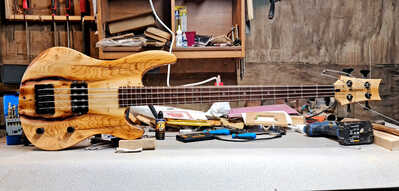 @nsj Very nice work as usual. I would be tempted to route a shallow recess for the bridge to sit in rather than install a different bridge. All your screw holes and alignment is already there, it's easier just to route out a bit extra depth, then the bridge will fit straight back in. Done!
Make guitars, not war 🌍✌️🎸
Topic starter
22/11/2023 2:31 am