Jigs, patterns, and lines on paper
Topic starter
02/09/2021 12:06 am
Just beginning and making baby steps. Before you look at what I have, yes this is my first build and no I'm not making a bandsman. Not that I have anything against Mark's design. I'm just not sure if I'll be making more than this one (hopefully I will, though) and if I do only one I wanted it to be my own design. Although I still could change my mind and set this one aside for later. Anyway, the jigs, humbucker pattern, neck taper, and fretboard caul are all done and ready to go. I'm holding off on the neck pocket pattern until the neck is made. 
Here is the drawing. The control cavity probably looks a little odd but of course that can easily be changed. The main reason that I'm making an in-line headstock is because I have an in-line set of tuners from a guitar that I upgraded a year ago and I'd rather put those to use than buy a set of 3x3. Only problem with that is with the extra length needed for the headstock your typical 2" neck blank isn't long enough (stew mac only sells them at 26" long). This design calls for 28" minimum if it's going to be set. I have a body blank and a slotted fretboard but no neck blank yet. Maybe I should go with a bolt-on neck since 1" blanks come in longer sizes.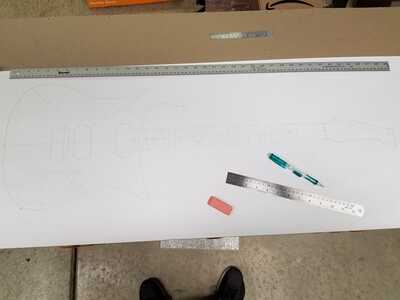 What do you guys think?