[Solved]

fretboard alignment has moved nut position slightly...
Hi Guys
I have a quick question re my fretboards that arrived today.  The fretboards look great and I had a quick question which may be nothing really but would love to hear your thoughts.
I've attached a coupe of pics….I cut the fretboard off at the 22nd fret and when I line up the fretboard at the end of the neck it pulls the nut alignment out very slightly towards the body. As per the attached photo it's just over 1mm…Is this anything I should worry about or will it actually be easily swallowed up by the intonation of the bridge? I have a six saddle Gotoh bridge and the scale length is marked with the saddles fully extended toward the neck so I should have loads of play to adjust for the light discrepancy??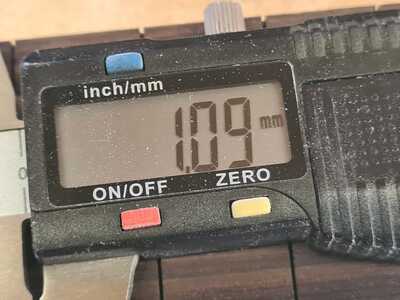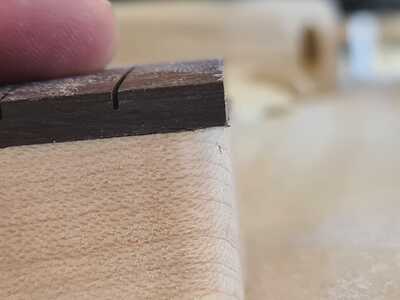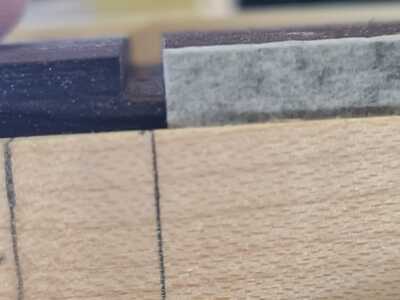 Sorry if I this is a really basic/stupid question.
I think the fretboards are great quality and I'm really enjoying your online course. The info is spot on and sooo helpful.
Cheers
Steve
Hey Steve - 1mm is nothing between friends...
Seriously I don't think it's a problem you should have more than 1mm intonation adjustment.
just to be sure - some Q's:
Are you making the neck or is it a fretboard replacement?
and do you already have the body with bridge mount holes drilled?
Measure twice, cut once...
Thanks for the reply Mark
I'm making the neck and it's been cut from a cnc template so sizewise I'm starting with a standard neck...
Yes, the bridge holes are done, again according to the template...
Thanks for confirming what I thought, it just threw me slightly that it pulled the alignment out...but as you say 1mm shouldn't be a dealbreaker between friends...
BTW I'm working through your bolt on neck course and build your own. Great information 🙂
Hopefully I'll soon be throwing away the bought template and replace it with my own design...
cheers
Steve
many thanks Mark
yes scale length is correct..is for a telecaster, but good pount about marking bridge after...
cheers
Steve
Are you building it with 21 frets as you cut the fretboard at the 22nd fret?
Measure once........
Measure again.........
Sod it - make tea!