Cedar Soundboard repair
Topic starter
06/09/2021 1:12 pm
Hello from the Isle of Man.
The good news.... I actually sold one of my acoustic builds. (can I call myself a luthier now 😆)
The bad news..... The guy has had it a month and a friend has scratched the soundboard as in the pics. Looks like the bang on the nitro painted top has "pushed" the grain down. Ive burnished it a little and the colouring has sort of equalised but the mark is still there.
Any ideas on how to help rectify this without a full repaint of the top?
TIA
Mike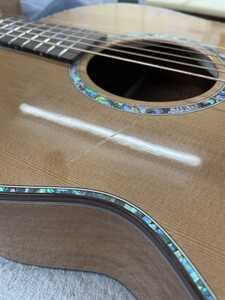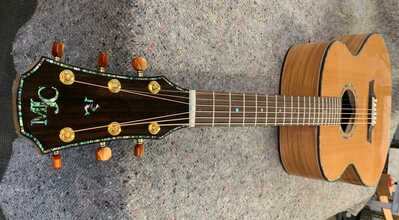 Trying to make a living out of a hobby doesn't work 🙂
@mikeyrjiom
Thats a great looking guitar. The forum finishing expert is @boo however from my limited knowledge and experience nitro can be touched up without too much trouble. If the scratch has gone right through to the wood and there is no stain or colour added, then you could try some drops of water to swell the wood up then rub down and re spray the area.
Some people call me a tool, others are less complimentary. Tools being useful things.
Beautiful Guitar! Too bad about the scratch. Ok, U have done this before. 
Wet Sand 800 Grit surrounding area using a rubber eraser as your sanding block. Just enough to where scratch just slightly comes off a touch
Clean off and Fill a little bit more of the surrounding area Aquacoat water based grain filler. Scrape excess and have it just a touch over above leveled. 
Let dry and wet sand with a graduation of high grit sandpaper still using your eraser as a sanding block. Starting from 1000 grit to 2200. Clean off and Dry Sand entire soundboard with 3000 grit sandpaper. Might get tricky sanding around the bridge. Try to follow grain pattern. Clean off
Lastly buff and polish soundboard with compunds of choice. I use Meguirua's products. 
Had a friend whom his guitar was keyed pretty bad. Did this method and you cannot even tell it was damaged. 
Cheers Clinton!
I can't wait to try this...let us know how it goes @mikeyrjiom ?
Measure twice, cut once...
Topic starter
07/09/2021 1:02 pm
Thanks (@clinton) for the help.
I will contact the owner and arrange a time so I can do the work.
Will let you know the outcome (@markbailey) nice to hear from you. Hope all is well
Trying to make a living out of a hobby doesn't work 🙂
@mikeyrjiom I come from an automotive finishing background so I use different types of paints. What @clinton is suggesting is a valid technique for repairing, although I haven't done it with Aquacoat before (but I will certainly try it now). I've used this technique with scratches on cars etc before, it's just like using a filler but using the actual same material that you are repairing, so I used clear lacquer or coloured paint (coded) if it was scratched through to the primer or substrate. Once the scratch has been filled flush level or overfilled, it can then be level sanded using p2000 grade paper on a small block. 
There are a lot of transferable skills that guitar builders bring from other industries, this is a great place to pick up new skills, not just for use in guitar building. @clinton is a very skilled individual and has a lot to offer. He is also well on his way to becoming a Jedi level guitar builder and he continues to inspire me. 
I'm now off to scratch one of my guitars so I can repair it with Aquacoat, Clinton style. 😁👍
Good luck with the repair, constantly check after a few rubs and use your judgment to see if you have done enough. You may need to apply several coats of Aquacoat to get it flush with the rest of the paint, check it with a small straight edge. 
Let us know how you get on. 
Cheers 
Boo. 
Make guitars, not war 🌍✌️🎸