Topic starter
09/11/2023 11:24 pm
I've finally got completely fed up of using wonky, cobbled together, sagged in the middle, unflat so-called work benches. I'm finally building a half decent but solid woodworking bench, it's not the best bench in the world but it will do for now. This is my indoor bench, it will reside permanently in one of the spare bedrooms, my indoor workshop. 
I'll be building many more benches when I've organised my workshops in my outbuildings. 
I bought a load of 4x2 redwood, dressed all round, to build this bench for under £150 
Also, a box (100 in box) of screws 6x80mm and a big tub of Titebond II wood glue. I decided to use Titebond II just in case I ever decide to dismantle it and rebuild it in a more outdoor environment in the future (that probably won't happen but I can never say never). 
I first used my cut list to make all my cuts of various lengths. Then decided to make the front and back frames. I cut a couple of pieces to join them together at the top and the a load more to act as a bottom shelf but will also join the front and back, and give it all rigidity. I had to assemble the frames on my kitchen table, it's the only large flat top I have at the moment. Once the frames were built and sanded, I took them upstairs. 
Now it was time to laminate a load of pieces together for the worktop. I decided to clamp two lots of six instead of clamping all 12 at the same time, makes it easier to carry upstairs. Once the glue had dried, I fed them through my planer/thicknesser. Now I can take both pieces upstairs to put on top of the frame. I busted out the No. 5 hand plane and got the edges flat enough to glue them together, left them in clamps overnight.
I'll have to plane the top until it's flat, then with the belt sander, then cut the ends off square, then with the orbital sander (going through the grades). I'll give the whole bench a few coats of Danish Oil to finish and I'll add a big face vice at some point. I'll consider adding bench dog holes and other bells and whistles as and when I think I need them. 
It's my first ever proper solid bench I've made for myself, it's going pretty well so far. 
I think it's essential to have a solid flat work surface when making guitars, it just makes life a lot easier.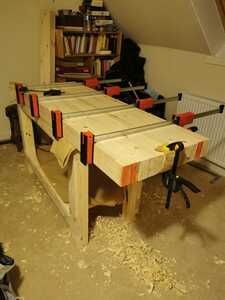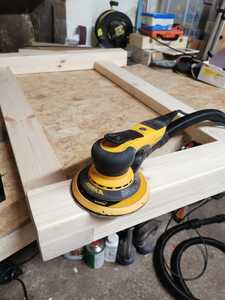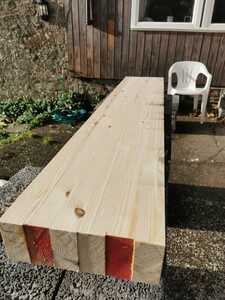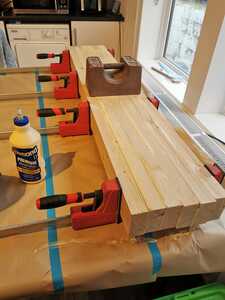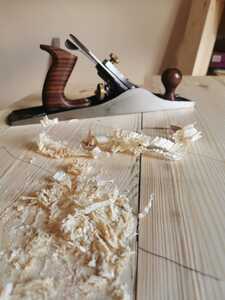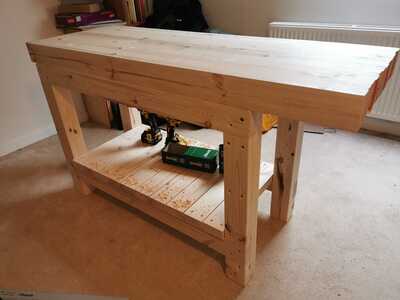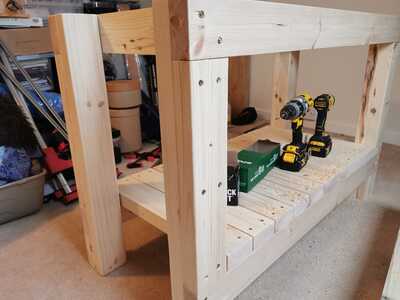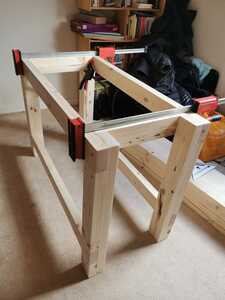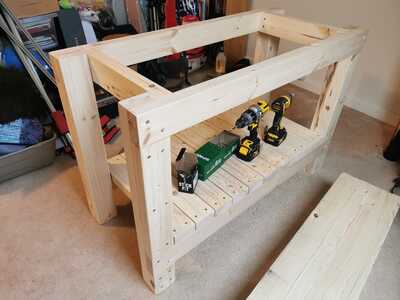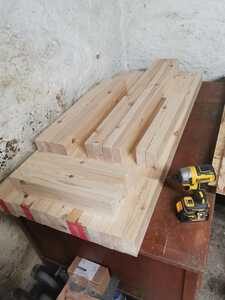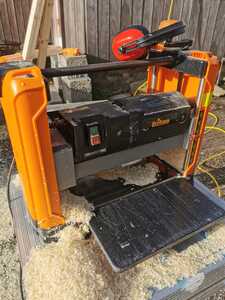 Make guitars, not war 🌍✌️🎸