2nd home build
Finished my second home build yesterday in time for Christmas!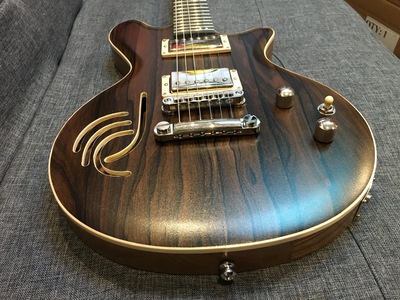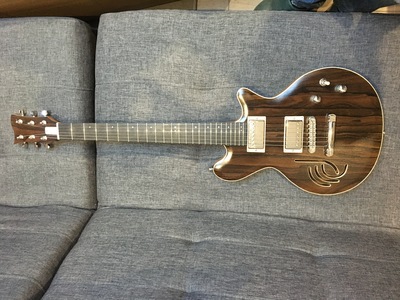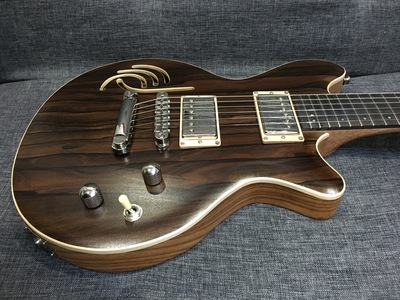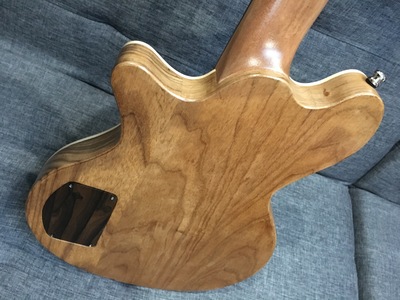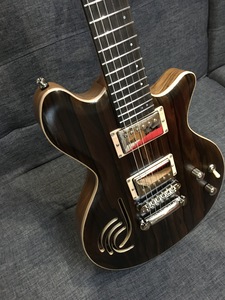 25 inch scale length
24 frets
Roasted ash body semi hollowed
8mm ziricote cap
Maple binding and purfling
Mahogany set neck
Ziricote headstock veneer
Gotoh tune-o-matic bridge
Gotoh tailpiece
Iron Gear Blues Engine PAF humbuckers
Maple pick up surrounds
Wilkinson EZ LOK tuners
Silver nickel control knobs
Satin nitro finish
I found this build much easier than than the last (Tele) even though there were more jobs involved. I think I learnt a lot from my last build, and obviously learnt the most from building one with Mark in Scotland, but also the online course is fantastic, as is this forum, and essential as far as I'm concerned. Mark's right - any idiot can do it!
Thanks to Mark and Carol and the online community for the inspiration and advice
Happy Christmas all and here's to a new year filled with sawdust
Rich
Beautiful! Love the sound hole and the seamless joint! Well done on the finish. Awesome.
Hi Rich
That looks fantastic, the matching logo on the trussrod cover is a nice wee touch.
That is a lovely Guitar, I really like dark woods and that is a beaut, a nice touch with the wooden control cavity cover, it always bugs me to have plastic ones!
Merry Christmas.
Give up the news folks, it's liberating!
"I never forget a face, but in your case I'll be glad to make an exception"Groucho Marx
Another stunning build from a community member, absolutely fantastic. 
I'm proud of you @richyc keep building. 
Online guitar making courses – guitarmaking.co.uk
You really did an incredible job there Rich! 
The soundport is fantastic and obviously you have an good eye for details, keep it up!