Steveh and the Aria ET 240
Topic starter
13/12/2021 10:52 pm
So, when I was a lot younger, I had one of these: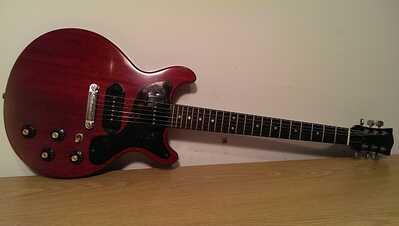 It's an Aria ET 240, a 70s Japanese sort of copy of a LP Junior double cut. It had quite nice tone, and was nice to play apart from 2 vices: severe head dive, and worse than that, a problem with the neck such that whilst playing, there would be a loud click and the neck would move into a new position, knocking it out of tune. I could probably fix that now, but at the time, I thought that it was terminal, stripped all the hardware off it and disposed of the wood.
So, for my first project, I plan to build something along the same lines, using as much of the original hardware as I can. I won't use the ugly scratchplate, and will probably also not finish it in translucent cherry red. I might also go for a single volume and single tone control instead of the 4 controls, but I haven't made my mind up yet.
Anybody who knows me will tell you that my normal rate of progress in any kind of project is, well, glacial 🤨 , so updates may not come in thick and fast ....
Anyway, I started drawing last night, and got this far ....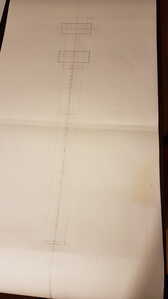 (sorry for the really bad picture!). 
More to follow ... somewhen 😉
15.12.2021 Updated Drawing: