Curved Chisel
One of our members Matthew pm'd me today asking about the curved chisel I use for carving the braces: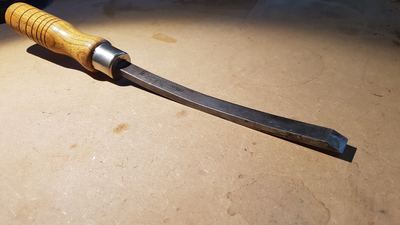 Unfortunately my chisel was discontinued by Stewmac - they called it the 'Guitar Makers Chisel'...glad I got two!
The next best available thing is this two cherries chisel - you can get it from tonetech: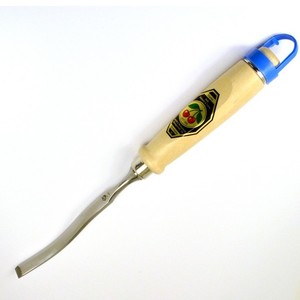 https://tonetechluthiersupplies.co.uk/s-form-bracing-chisel-10mm.html  
but any long chisel will do - I started with something like this: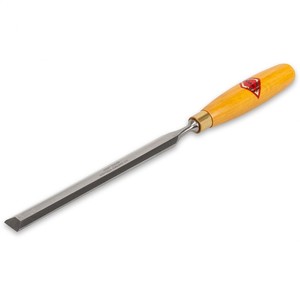 https://www.axminster.co.uk/henry-taylor-long-thin-bevel-edge-paring-chisels-ax23546
(mine was 19mm width of blade)
 
You could find something similar at a lower price I'm pretty sure with search...
Please let us know if you find anything!
This topic was modified 4 months ago 2 times by
mark bailey
This topic was modified 2 months ago 2 times by
mark bailey
Measure twice, cut once...
Thanks Mark.
I ordered the 10mm curved guy- hopefully that's not too narrow for the job.
10mm curved chisel came today- he's a bit too normal length to feel like a proper luthier, but it'll be nice to have until I find a long one. 
cheers
Yes - it doesn't quite have the weight behind it as the old style...I thought about making my own for a while...
Andy from Tonetech was looking into having them made for us...
We'll see what happens...Such a shame Stewmac discontinued it.
Measure twice, cut once...
The one I got from StewMac is ok but the curve doesn't extend all the way to the cutting edge so it doesn't give as smooth a cut as I'd like at the end of the cut and tends to split the wood though a lever action. I was going to contact Ashley Iles and ask them to make me one but here's a thought Mark, maybe you could design it and place a group order for them. And they'd be British! I toured their factory as a student over 30 years ago and it was amazing to see the tools all being forged and shaped by hand. I am sure they'd be interested in making a special given that it is clearly a tool many of us have trouble finding.
I just got a bigger one delivered this week from ebay. It's a long straight blade, but the handle shaft is offset, which isn't what I wanted, even though it was listed as 'curved chisel'.
I'm wondering if a blacksmith could work on the blade?
Mark:
- is any part of your blade straight / flat? 
- if you push the tip down, how high does the centre of the handle shaft measure off the workbench?
Some progress here gang:
Ben Crowe (Crimson guitars) at VintageToolShop.com is willing to make some of these chisels next week after NEC show they are attending.
I said to admin Saffy on email that there may be more orders if others see this opportunity, so I guess take your chance! shop@vintagetoolshop.com
Mark, if you see this, could you take some measurements from your original tool?
Peace
Ace! Nice work Syntho!!
I will take some pics and measurements today...
Measure twice, cut once...
Here are some pics of my favorite curved chisel...
The cross section of the chisel blade is 13mm x 5mm
As you can see there is a flat section about 25mm (1")  long at the pointy end - I like it this way.
The curve is approx  25mm over 180mm
It is very slightly 'Hollow Ground' as you can see from the close ups of the back of the blade.
Is that a hardened insert? I'm not a chisel expert so I don't know if that is a thing...
This post was modified 3 months ago 2 times by
mark bailey
Measure twice, cut once...
Amazing- thanks Mark.
I will send onwards, and mention Bailey guitars, so anyone emailing them can refer to this when requesting one.