DIY Drum Sander
Hi everyone,
Having looked at a few second hand drum sanders, I'm having a go at building one based on these plans:
https://woodgears.ca/sander/plans/
I happen to have a 1/2HP pump motor, and some drive belt bits and pieces (ex Morris Minor fan belt!). I'll let you know if it's any good!
Anyone else had a shot at this?
Graham
That's my DIY drum sander built and working now ...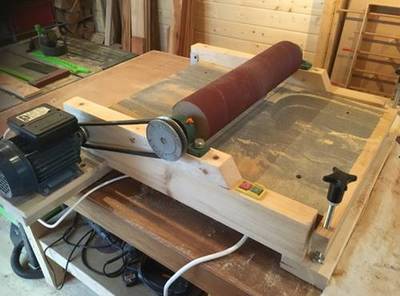 The table height is adjustable from 0-80mm by means of a pivot at one end, that can be set at one of 4 chosen heights, and threaded adjusters at the other end, from which 1/4 turn gives ~0.2mm at the drum. The drum was trued up with sand paper on the table. First results seem to show I can achieve +/- 0.1mm across the 450mm drum width.
Drum guard now also fabricated from a rain water gutter (!) with dust extraction to the vacuum cleaner - it's still a bit dusty, so I'm adding a brush strip along each side.
This post was modified 3 months ago 2 times by
mark bailey
WOW - Nice work Graham!
Thanks for the pics and vid - I have added them to your post...amazing work...hero points duly awarded!
Measure twice, cut once...
Tempting - the one bit of kit that is a bit expensive but very useful based on use on my two build courses......
Keep watching on eBay - there is a used Jet 2244 on eBay but it is a big lump and would need a van to collect........
Will look at the plans!
Measure once........
Measure again.........
Sod it - make tea!