Has anyone built a classical guitar?
Build Your Own Acoustic Guitar
27/11/2020 11:56 am
Topic starter
I do make myself laugh..... I've got that many unfinished projects, both guitar building and otherwise, that I really don't need another....However 🤣
I dusted off a copy of Bogdanovitch's build a classical guitar book and now having, completed Mark's BYOA course, makes a whole lot more sense than before
Are there any different pitfalls for me to inevitably find or is it largely a similar process as any other acoustic?
The bracing is different I know but is there a good reason not to have a go?
Also @Mark presumably your regular acoustic back and sides, soundboard and neck blanks could be used with the excess used to cut for bindings etc.
Hi James, I made a nylon strung Maccaferri which has pretty standard classical bracing.
My only comment would be that you have to be very careful when setting the neck angle as, without a truss rod, you have very little, if any, means of adjustment after the neck is glued on. My experience was that the string tension, even with Vinnie Jones strings (extra hard) hardly pulls the neck forward at all. Mind you, the neck in question had three carbon fibre reinforcements so I guess it was never going to move very much. It has meant me having to fit an over-height saddle to stop string buzz but I'm going give the frets some grief the next time I have all the strings off to see if this helps at all.
Darren
You can never have too many half finished guitars but my wife says that it is possible to have too many finished guitars! I don't get it!!
Hi James,
My first build was a classical acoustic under the guidance of an experienced luthier. I have built a couple of traditional acoustics since. The biggest difference is the neck joint. Traditionally classical guitars use a slipper joint as opposed to a mortice and tenon, dovetail or bolt on. They are also constructed on a solera on which the neck, top and end block are glued together first. Traditionally they also have a slotted headstock. Some perts of the construction are easier and some a bit trickier. Good luck if you give it a go. Attached is a picture my effort.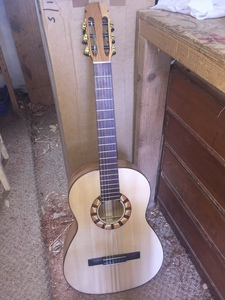 James Perry
You should be able to get large radius sanding pads from radiusdish.co.uk
They are based somewhere in the South of England and were advertising radius dishes with a sanding pad, so I'm sure you could get one separately. 
Some people call me a tool, others are less complimentary. Tools being useful things.
James Perry
Apologies I made a mistake with that web site address its radiusdishuk.com
Some people call me a tool, others are less complimentary. Tools being useful things.
There is a youtube video about making radius dishes
May be useful.
Great to see the video , its very good ~ Ali Sami Farooq
Not, yet but will surely build a classical guitar.