Finishes on mahogany
I've used a finish (hot auburn) from www.wudtone.com in the past on a basswood body kit guitar, the one in my profile pic. Absolutely love the finish I got but I'm wondering what results I'd get from this kind of approach with darker mahogany, hard to know if I'd just end up with a dull looking finish if I tried to add colour. Obviously I could stick to woody colours but would be interested what people have used to add colour mahogany. To be clear I'd still want to see the grain here so not at all interested in paint!!
…on an elaborate journey to turn trees into music.
I think colour options while still seeing the grain will be very limited due to starting  with a dark base of mahogany. Also depends what shade of brown your mahogany is. Brown isn't a primary colour so adding red, green or blue will make it darker and it could end up very muddy looking. @boo is the paint expert.
Don't call us we'll call you
Thats what I was presuming with the "dull" look, it's hard to tell what anything will look like without testing. I think there was a finishing oil someone mentioned that was used but also said not to the put any kind of lacquer on it, any ideas how a purely oiled finish would wear? Would it need reapplying etc?
I'm getting way ahead of myself here but want to test finishes on off cuts once the blanks arrive. So many questions 🙂
…on an elaborate journey to turn trees into music.
Looks like this is out of stock atm, but how about something like this ...
https://www.crimsonguitars.com/collections/guitar-finishing/products/grain-enhancing-filler?variant=32379735310471
With a red, or clear, finish over the top?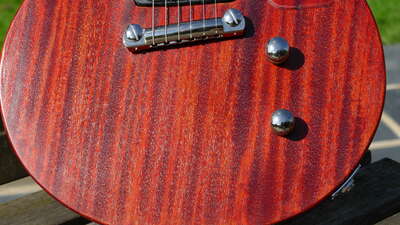 I used to use Andy's stuff on all of my builds, but it can be tricky to get it just right, so I've tried various other options more recently.  However, with a dark mahogany as the base, it's never going to stain light.
Online guitar making courses – guitarmaking.co.uk
Oil finishes are hard wearing and easy to touch up if you need. Another advantage is they don't chip or spread if you do get a knock. Just rub out the dent and apply more oil. I did an oil finish on a mahogany trophy base in 2003 and it's still good. I've got some photos on my Facebook page as was when made, then recently. Will post them for demonstration although it's obviously not a guitar.
Don't call us we'll call you
Here is an example of how an oiled finish can darken mahogany. The first photo is before oiling in 2003 and the second one is from 2015 and shows no deterioration in the finish despite being kept on display next to a sunny window. 
Golden yellow over mid brown gives an old vintage brown colour like antique furniture.
Don't call us we'll call you
One of the most surprisingly (to me) effective colours I've seen on mahogany was when Ben Crowe dyed the back of his cyberpunk guitar black. With an oil finish, the best way I can put it is it came out looking like a much more expensive piece of wood.
Danish oil is my favourite finish although the climate here can be too cold and damp most of the year. Definitely a job for outside working due to the aroma.
Don't call us we'll call you