Finishing oil cure time before assembly
Topic starter
13/08/2023 11:03 am
Hey folks, 
Sorry if this question has been posted before.
What is the advised cure time to leave liberion finishing oil before starting assembly?
Looking on line the suggestion is 24/36 hours, bit of seen other advice of leaving it up to 4 weeks?
Some photos of my first build below, that's had 6 coats of FO.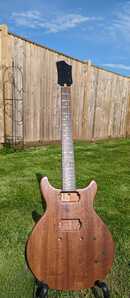 Cheers!
@dhawkes1gmail-com
Hi Dan, it all depends on how thick you put it on. By the time you've reached your 6th coat it should be a very thin coat so 24hrs should be ok. I had to leave it 36hrs once after the first coat. 
🙂🎶🎸🙏
🗝️ "Life's what you make it"🗝️