Whoopsie
I always like to learn something new on each build.
Often the "learn something new" is preceded by me ballsing something up, to which I then need to devise a cunning fix.
And here's the whoopsie on this build.  It's a hollowbody, with the hollow created by routing out a large part of the 35mm thick top, onto which I've glued a 10mm back.
Back looks good ...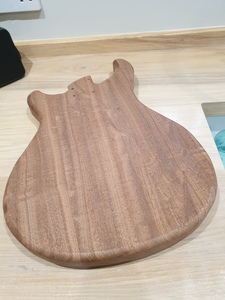 But due to a non-functioning ruler (or my inability to measure correctly), I've sanded into the inside of the body ...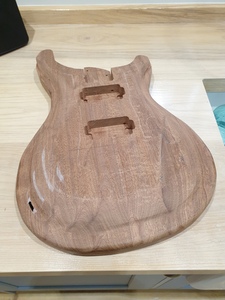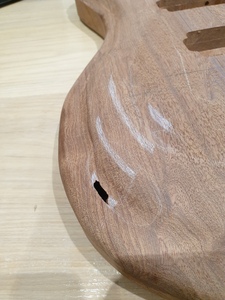 ... which is my opportunity to devise a cunning fix.  The hole is about 15mm by 5mm.
My current thoughts;
1.  Make it into an as-if-deliberate feature by cutting some matching holes in, more or less where I've indicated with the white pencil.
2.  Hide it by cutting a hole in the back, gluing a piece of wood onto the underside and then filling the hole with wood dust & glue.  Downside is that it'll still be quite obvious as there's some strong grain pattern running through the area, and I'll have to cut a hole in the back.
3.  Hide it by inserting some inlay.  I'd try to create some sort of semi-random pattern of inlays, and scatter them across the top of the guitar, rather than just into the hole.  Downside is that I'll probably still need to glue a piece of wood onto the underside to support the inlay.
Any other suggestions oh wise ones?
I'm currently attempted option 4.
That's like option 2, but without cutting a hole in the back to get access to the underside of the hole.
Step 1 has worked (I've got a piece of wood glued in place), and I've just applied step 2 (filling the gap).  We'll see how - whether - that's worked in the morning ...
Think option one would work.........
Measure once........
Measure again.........
Sod it - make tea!
That's bad luck...fingers crossed for the repair. At least you have option 1 as a fall back - and if all else fails
Measure twice, cut once...
Another option might be to cut off a section of the body and glue a new piece on - if you have an offcut from the body blank it might work...
Measure twice, cut once...
OK ... here's whats happened so far.
1.  A bit of precision sawing.  I love my Japanese saws.  This is a tiny piece of offcut.
2.  Lets put a screw in it.
3.  The screw is just to give something to hold onto when getting the offcut into place, and dolloping superglue on each end, then pulling it upwards to glue against the underside of the cap
Next task - mix up some wood glue and wood dust and smooth it over the hole.
That's all pretty much non-destructive.  It it fails for any reason, then I'll probably go with the option of cutting some matching slits/fins into the rest of the cap and turn it into a feature.