Hello from Ayrshire, Scotland!
@rocknroller912 yep you've got that right. At least when it's cold you can put more clothes on. When it's hot like our summers though you just can't take enough off. Skinny-dipping is definitely a southern invention to beat the heat, ain't got a damn thing to do with sex. 🤣🤣🤣🤣🤣
For some reason I thought you were in England or wales.

Having the Bailey workshop at least in the same country will be very handy for me. 🏴󠁧󠁢󠁳󠁣󠁴󠁿
Yeah that is absolutely an added benefit to your move. Probably just a short drive and there ya be. 😁😂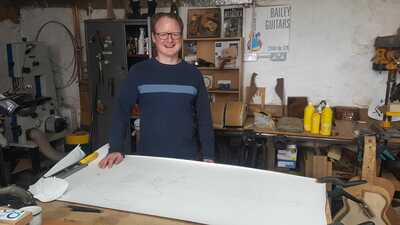 Ahhhhhh - brings back happy memories of in-workshop courses!
Looks like that old piece of guitar-shaped Walnut has disappeared from the back wall since I last saw inside the workshop.  Wonder whatever happened to that???
Online guitar making courses – guitarmaking.co.uk