Refretting an acoustic
Looking for tips on installing frets above the 14th over an acoustic body once the neck is glued on.
Seems like hammering is out of the question. Squeeze with a clamp maybe?
Hmmm...... I don't know about that one BERBivore, it's one for the master. 
Carpe Diem and build your dreams
Hey Herb
Standard practice:
(assuming you are right handed)
Put your left hand through the soundhole and hold underneath the fretboard
Lift the guitar off the bench
Hammer in mid air against the inertia of the guitar with your right hand
It is a little unwieldy but tried and tested and a lot cheaper than the alternative (Stewmac Fret Buck - expensive but I'm sure its fantastic)
You can certainly clamp any problematic frets
Make sure to mask off the body  🙂
This post was modified 9 months ago 2 times by
mark bailey
Measure twice, cut once...
Oh no - it's not going to work... I'm left handed with hammers! 
But... I have a cunning plan... thanks for this Sir
oh yeah - I forgot to say...if you are left handed...swap hands...genius. ? ?
or you could fill the soundhole with Turnips?
Measure twice, cut once...
Frets went in a treat.
Levelling and profiling as we speak (taking a break and having a cuppa)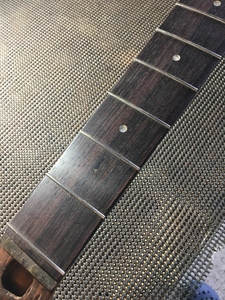 Those above the 14th were easier than I thought!