Guitar #2 (Summer 2022 Project)
Topic starter
13/06/2022 5:47 am
Getting started on this summer's guitar project. I'm still in the design phase right now but will probably be cutting some wood within the next couple weeks. All I have done so far is the headstock design but I do have an idea of how I want the whole guitar to look. I'm considering doing a trem bridge this time around. Anyway, here's the headstock. What do you guys think?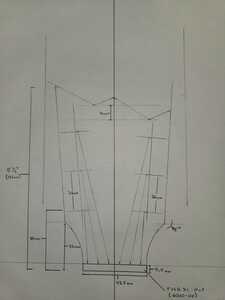 What do you guys think?
It's a nice shape @wayne_f . It's a bit wide for my personal preference, I like to taper it in towords the end rather than out. That keeps the strings straighter beyond the nut, whether it makes any difference or not, I've no idea.
So long as the tuner posts don't get in the way of the next string, from a practical point of view, it will do just fine. 
The design is definitely different and I like that. It's unusual and perhaps not to everyone's taste but what is? Everything is subjective, so different and unusual design is encouraged, certainly by me. 
Beauty is in the eye of the beholder. 
Go for it @wayne_f 
Make guitars, not war 🌍✌️🎸
Topic starter
13/06/2022 7:08 pm
Yeah, I expected the angle to be the main criticism. It's my take on the Dean style 3X3 design which they use for almost half of their catalog. I swear there was another brand that did this as well but I can't think of who it was. Oh, well. This should be fine but if any little issues pop up then a redesign will be in the works. I'm considering this to be a prototype.
@russ Haha really? I don't see it.
Hi @wayne_f I tend to agree about the angle of the string from the nut to the tuner due to the wide headstock. If there is too much friction on the string in the nut slot this can make tuning, and staying in tune, a real pain, especially if you like bending your strings. If you are making you own nut you can compensate for this by cutting the slots at an angle so that the deviation is split thereby reducing the resistance on the strings movement. Good luck with your build, it certainly looks like its going to have 'attitude'!
CHeers
Darren