Satin coat for Ziricote ?
Topic starter
17/12/2020 8:58 pm
Hi 
i am close to finishing my second home build which has a Ziricote cap, and i'm wondering if anyone else has used it before? I've bought some satin nitro spray but i'm reading online about it darkening the finish and dulling down the amazing grain it has. I quickly sprayed a spare bit and it does seem to have darkened it a lot as can be seen in photo, so wondering if i spray the rest of the guitar with nitro and maybe just use some wax on the Ziricote? 
any thoughts / help greatly appreciated
cheers
Rich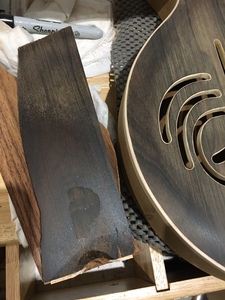 Hi Robin,
any finish that soaks in to the wood is going to darken it but you should always find that this enhances all of the grain rather than detracting from it. I cant think of any wood that looks better dry than it does with a coat of finish on it and I can't imagine that you will see it dulling the figure.
Cheers
Darren
BTW
using finishes with different levels of porosity/evaporation rates on different parts of the guitar is a bad idea I think as this will contribute to exaggerated contrasting rates of expansion/contraction in the bits of woodwork connected to one another.