Return of the Thistle
Hello. I've just joined the happy community with the aim of building another guitar. Having completed the "Thistle" last year with the online video series, I am getting bolder with "Thistle 2". More anon!!!
It's great to have you here John
There are 'hero points' for the taking - upload some pics of the Thistle here in the acoustic showcase
I'm sure some of the others haven't seen it yet!
Measure twice, cut once...
Hi. Tried to post Thistle photos but don't get the wee paperclip to attach them. I'm using android with Windows 10.  Any ideas???
Might be the time delay spam filter thingy...leave it for a few hrs and try again...sorry ? 
Measure twice, cut once...
Hi. Good news on the Thistle Archtop front. Got the wedges trued and glued before I went on holiday and have returned to making sawdust at last. I wish there was some way to attach the photos. I'm open to suggestions.
Measure twice, cut once...
Hi Mark. Thanks for the reply.
I had seen the "how to" post but still can't get the wee red paperclip thing at the bottom. All I have is a tick box with "Subscribe to this topic" beside it. Tried ticking the box. No change. Waited a long time in case the spam thing needed to think about it. No change. Oh well. I guess it will have to be a secret guitar.
John
hmm....maybe you were not signed in....seems to be working now ? 
Measure twice, cut once...
Update on progress. I'm following the Benedetto book and have scaled down his design from 17" to 16" for my preference. Lots of drawing of the arching profiles and cutting them out of 3mm hardboard was followed by commencing cutting the profiles into the back. After a lot of thinking, I came up with the carbide cutting ball in a flexible drive shaft which allows both hand delicate control with the back clamped down. Takes time but works well to give a craving guide.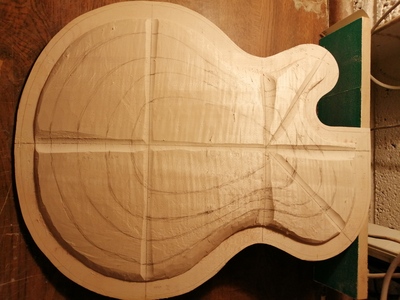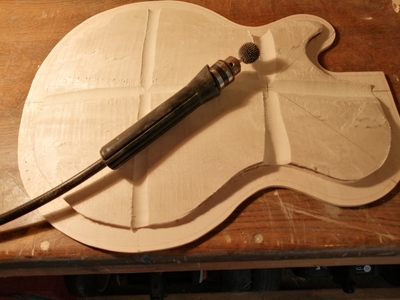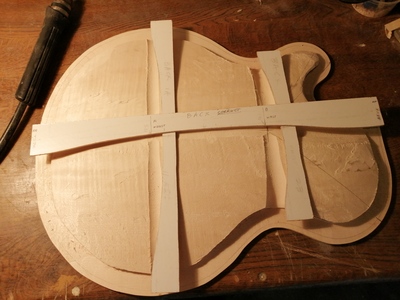 Wow John that is looking pretty cool - unusual method but I have come to expect nothing less from you !! ? 
Measure twice, cut once...