Current build
Watching Mark's workshop sessions always gives me a kick to get out to the workshop and do something myself!  And building guitars is always much more fun than building cupboards ... or doors ... or worktops ... or whatever else appears on my task list.
The current build is a double cutaway, with a 3-piece Idigbo body and a quilted maple cap.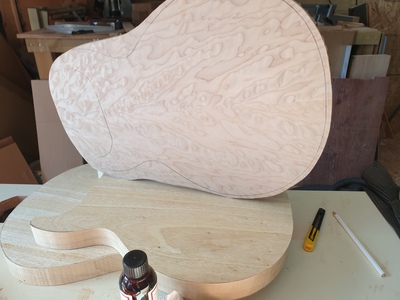 One of my favourite pics to date is this ...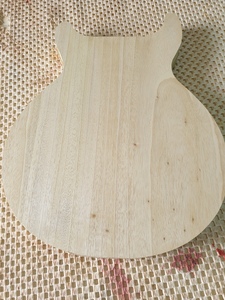 Why?  Because that's a 3-piece body.  Spot the joins ...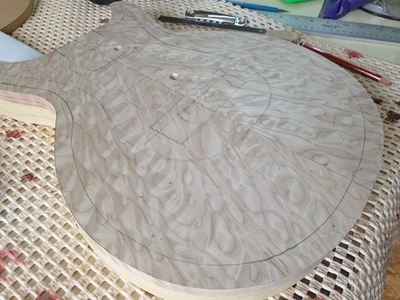 It's going to have a P90 in the neck ... which is going to leave a bit of unsightly neck join visible between the end of the fretboard and the pickup (spot the NEC carpet tape!)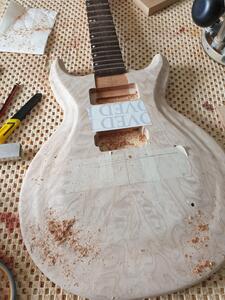 😕
Unless we do a bit of precision cutting and routering and stick a bit of offcut into the gap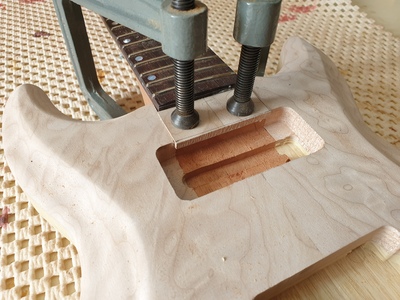 😉
And a bit more sanding later ...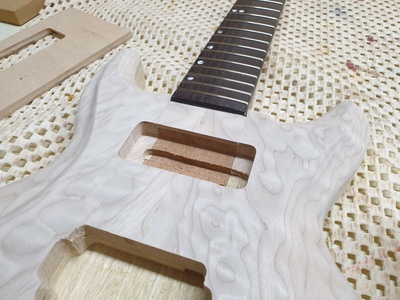 ... that's looking OK to me.
@tv1010101 Great solution! Looks fantastic - thanks for sharing that - I'm sure I'll use it one day...
Measure twice, cut once...
Into the finishing room.
My workshop is full of sawdust and other assorted muck.  It's not the best environment for finishing guitars.  So I negotiate for a bit of spare space in the house and get the finishing work done there.
Hence, one I've been saving up, and the one shown above, both getting finished at the same time ...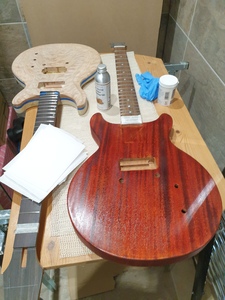 The LP Jr has been grain filled with C*imson's gold grain filler, and then red-stained.  It's now getting the oil coats.  In the interests of full disclosure, I didn't make this one, it came to be as a joined-but-unfinished neck & body.  But I know who built it and most of their output ends up costing serious ££s (which is why I've got this one instead!!).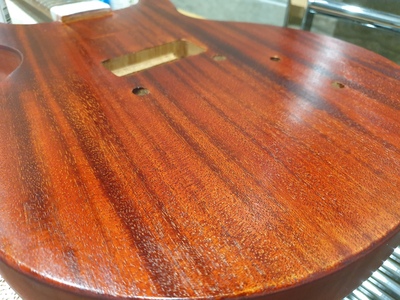 The quilted maple DC has just been coated with Osmo raw.  That should stop the top darkening when the oil goes on - the Osmo should protect the original colour of the maple.  Guess we'll see ...
The fronts have now had their coats of oil, and it's hardened sufficiently to flip over and start on the backs ...
The necks will just be oiled, no stain.  Might even get them put together this weekend ...