First electric build update
Topic starter
29/05/2022 6:39 pm
Friday night I glued the neck in and on Saturday morning I took it to a friend that's been playing for 35 years. I wanted him to check the feel of the guitar especially the neck as it ended up a bit differently than other guitars I have that I didn't make a neck for. 🤣 It's close to SG thickness at the heel but about 1-2mm thicker at the nut. I was going by feel as well as measurements when carving so that's how that happened. Honestly it feels quite good. To me anyway, but also to my friend. Said he's never felt one like that before but he definitely liked how it felt. Big wow there for me. (I seriously doubt myself A LOT so there ya go.)
When I got back to house I grabbed a set of strap buttons, screwed them on, put a strap on it, and slung it on…, and it hung there nicely balanced. But, no hardware yet so that may change.
Here's the latest pics. Ohm yeah, you also get to finally see me. 🤣🤣🤣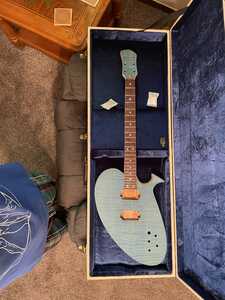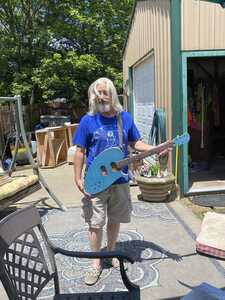 And another quick update.
I'm spraying primer on the back and sides. Actually between coat 1 and 2 right  now. May put 3. Depends on how the 2nd feels after sanding. Should be spraying silver on all that later tonight, probably about 10:00pm the way it's looking. At least I should get to bed earlier tonight than I have been🤣🤣
This topic was modified 4 weeks ago by
Rathius
Topic starter
30/05/2022 4:33 pm
@rocknroller912 it's not hot yet but is in the 80s already. Close to 30 over there I believe. But you're more than welcome to come visit in July and help me carve a few necks. Be closer to 40C then as it'll be 95-102F. 🤣🤣
Im in Scotland and it's still in the lower 60s though the day, close to freezing some nights. Holiday sounds good I've been to America a few times in hot weather 
Some people call me a tool, others are less complimentary. Tools being useful things.