Glue the neck
Topic starter
27/09/2021 4:43 pm
Huge thank you to all those that voted to get a Mirka sander, what a difference that made. So this is it, sanded and a finally took the plunge and glued the neck in. Obviously I was terrified and obviously as it's me it's not perfectly straight but it's far straighter than it would have been if I hadn't measured and remeasured the neck pocket fit and readjusted for that. Feeling pretty proud of myself right now as it really does resemble a 'guitar' 
Onto the bridge holes, of which I have a question in the question section.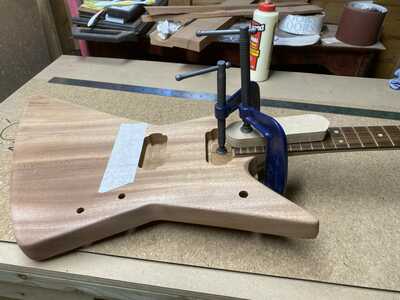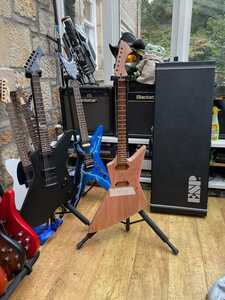 Huge thank you to all those that voted to get a Mirka sander, what a difference that made.
@cheesewhisk Yep, told you I would be a good investment. 😁👍
Your guitar build is looking great, well done sir. 
Make guitars, not war 🌍✌️🎸
Your build is looking very good compared to the other ones in the photo
Some people call me a tool, others are less complimentary. Tools being useful things.
Oh and I agree with @Rocknroller912 , it does look good between the other guitars there 😉