In the beginning we mark the nut...
Topic starter
23/04/2021 9:06 pm
So here goes, first ever guitar build, this is likely to be slow going, if I start to progress quickly at any point remind me I should sleep 🙂
Here's the design so far, a 25.5" scale length Bandsman

The wood, mahogany all round and an Ebony fretboard will hopefully be arriving next week so I can get started on the neck.
To date I've made a load of jigs and templates, need to finish sanding the templates and can them cut working from the masters
Heres a few bits, I'll not post all as you have seen them before!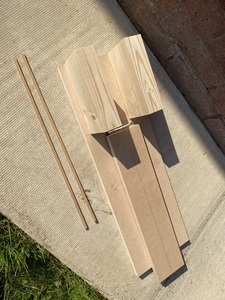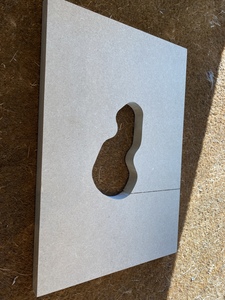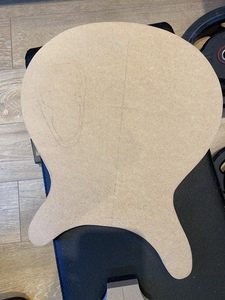 I looked around at aftermarket base plates for the router and the generic ones weren't that big anyway and ones that were big cost more that a sheet of Perspex. So I went with 8mm Perspex for my new base, cut on a circle jig I made for the band saw using a 24 tooth 1/4 blade from TuffSaws. It cut pretty cleanly so I took out the cut marks with some wet 120 grit wet&dry and worked up to 1500, keeping it wet, so I got super smooth edges and no clogged paper/melting plastic. The mount holes were taken directly from my actual router base plate and cut with a step drill so that I got the mount hole and rebate with one drill bit.
Hopefully by the end of the weekend all the jigs and templates will be complete and sanded with working copies of all masters. I'll then sit by the door and wait for the post next week 🙂
As for parts, I've got with a GraphTec Tusq nut, lovely material to work with if you need to cut it down at all!
A Gotoh 510UB bridge with individually adjustable saddles.
Gotoh machine heads, don't recall the model number, the basic end of the range.
Pickups I'm undecided about right now, watch this space. The rest of the hardware is all chrome, no complex switching plans at the moment either. I think the Humbucker surrounds will be swapped out for something nicer too.
So, there we are for now, I'll add more as I progress and post a full build video at the end 🙂
…on an elaborate journey to turn trees into music.