In the beginning we mark the nut...
Hey @mattbeels - where've you been?
Apart from the curtains shop?
😉
Online guitar making courses – guitarmaking.co.uk
Topic starter
01/11/2021 8:36 pm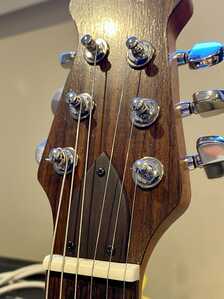 I went with rosewood for the truss rod cover in the end, the others just looked bad, thanks to @mattbeels (I think!) for promoting wood!
…on an elaborate journey to turn trees into music.
Hey @tv101, yeah I had some stuff going on so I definitely wasn't around much. These days it's been better. My Dad is currently here for a visit and I've been watching the Acoustic Course since my PM is about to exipre and I won't be able to renew for a bit… what about you?