My first design
Topic starter
14/11/2021 3:20 am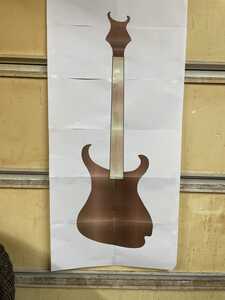 Hi all!
Ive taken the design and build your own electric guitar and I am now have first full-size drawing complete. I have it hanging in my shop/garage 😂. Here's a picture I just took.
BTW, I already see changes that need to be made 🤣. Not there yet am I? 😂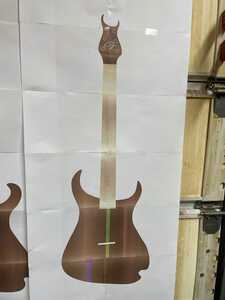 Here's the revised design thus far. May still need to make the headstock longer though. Might look better with shorter horns on the headstock too.
@rathius Hey man, welcome. 
Cool design, although one thing that jumps out at me is the headstock. Just make sure you have enough room for all of the tuners/machine heads and they are accessible enough to use comfortably. They need to be evenly spaced and the strings not interfere with any of the other tuners. It's easy to get carried away with aesthetic design and overlook essential practicalities.
It's a great start and you can get this to work, no problem.
It's a bold design and I'm looking forward to seeing it develop and get built.
Good luck and if you need any help, come back here, ask all the questions you like and we will help you out. 👍 
Boo. 
Make guitars, not war 🌍✌️🎸
As others have suggested - always check the string path from the nut to tuner.
Mark out where you plan on putting the tuners, and then draw lines to show the position of the strings from the nut to the tuner.  Make sure that each string can get to its tuner without crossing into the line of another string, or another tuner.
Another good tip is to try to make those string lines as straight as possible, though that will compromise your headstock design!
Online guitar making courses – guitarmaking.co.uk
Topic starter
14/11/2021 9:05 pm
The headstock was one of the things I was looking at that I didn't think looked right. Thanks to everyone for confirming my suspicions. The horns on the body were something that also "just didn't look quite right". I've addressed both of those with the revisions I did last night and today. I've added the picture of the revised design to the original post