Wolf's Descent into Madness
Topic starter
23/10/2021 7:05 am
Boo had to invoke the curse of the CNC machinist, too.
"if you are going to make one, might as well make two, right?"
Started with the rock maple board, tonight. it was almost perfectly flatsawn, so I split it up the middle and rolled the 2x2 staves before gluing them up, to present a quartersawn laminate structure. It'll have to do. Got two necks blanks plus enough board to cut two more just like it with an inch left over. I won't cut neck 3 and 4 until I screw up 1 and 2, or I decide to build body 3 and 4...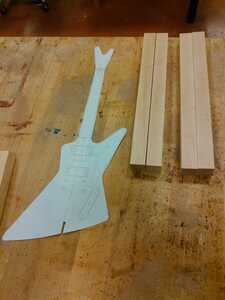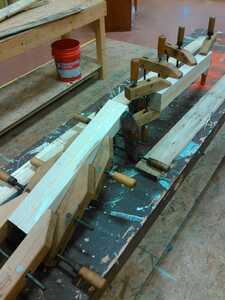 The sapele blank was big enough to make two bodies, so I jointed the two edges to keep them straight and went to plane it down just enough to smooth it up, and it was too wide for the planer. That's why it hadn't been used in all the time it was there.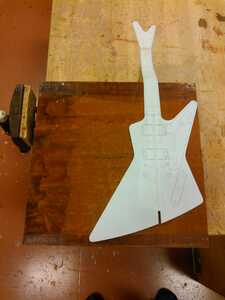 I ran it through the bandsaw and cut the two blanks out leaving as much as possible around the edges for now, and I made sure that I had plenty of room to keep the grain of the body parallel to the grain of the neck. After that, each piece fit through the 16" planer with just about half an inch on either side. The body is just narrower than 15".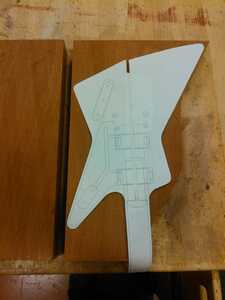 You'll see that I had to modify the Explorer template I have, as a direct 17" scale sized version was too narrow to fit a normal tenor ukelele nut on, but after widening the whole thing by slicing it up the middle and adding some paper in to bring the nut width out, the bridge width magically came right out at the desired 1.77" string spacing.
So, it's a little fatter than the true-scaled explorer body should be, and I've decided to go with a 19 fret neck. I'm drawing the pickup bobbins and covers in my drafting software tonight, and I'll 3D print the plastic bobbins for my mini (Micro?) humbuckers sometime next week.
While I work on the neck, I intend to start machining the hardware to the design sizes, so I can adjust the body template where I need to for the pickups, bridge, and stop bar, and if I need to change the tone control angle I can do that too. Same for the pick guard/routing cover, I need to get that drawn up in CAD so I can neatly mill the edge of the plastic for that too.