Vintage technique for neck adjustment
Topic starter
23/01/2022 11:22 am
I've just found something online that I find interesting. Some older guitars/stringed instruments don't have truss rods installed in the necks. So, how could you adjust a bow in said necks if needed? 
Well, something else I didn't know is that, some stringed instruments have bar frets rather than T shaped (or tanged) frets. 
Scenario: An old guitar had a forward bow in the neck when fully strung and tuned to pitch, and the neck had excessive forward bow, making it very difficult to play. The neck does not have a truss rod installed. What do you do to adjust the neck, bar removing the fretboard, routing a truss rod slot and installing a truss rod, before glueing the fretboard (or a new one) back on? Major surgery eh? 
Well, if you remove some or all the frets and install some thin metal shims and reset the frets, it will straighten the neck up. Each little shim will add a little more material to the overall ensemble of the fretboard and in turn make the neck more resistant to any tension being applied to the neck with the string tension. Cool eh? 😎 
Here are some screen shots.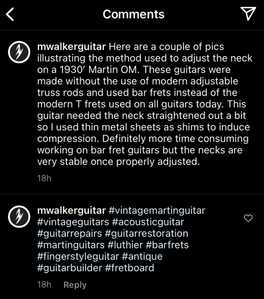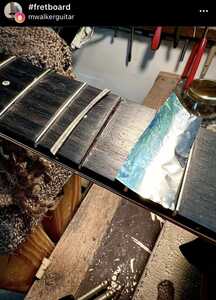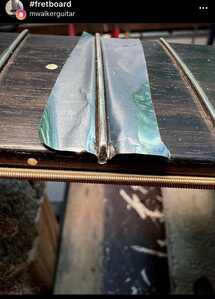 Make guitars, not war 🌍✌️🎸