Planning new build for 2019
I'm planning a new build for 2019. This time something a little different from what I've been used to, an Ibanez Iceman type. I have plans, literally. 
I want to use a nice variety of woods so any suggestions of where to purchase from would be appreciated. Mark, if you have any fancy woods, please let me know. 
I have in mind something similar to this.
I would love to find some fretboard material such as these examples that have great figuring that is very contrasted. 
Not sure whether to use mahogany or ash for the body and maybe with a drop top.
What do you think? 
This topic was modified 7 months ago 2 times by
John L
Carpe Diem and build your dreams
Awesome!
Where did the drawing come from? Did you make it?
Here is some fancy Crelicam Ebony I have in stock - the one on the far right is Leopard figure
Let me know if you want one I'll have to ask Carol the cost and email you separately about that: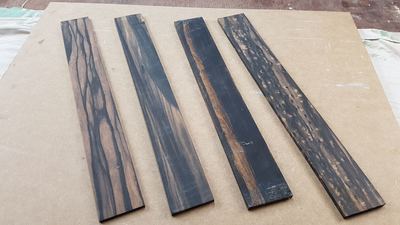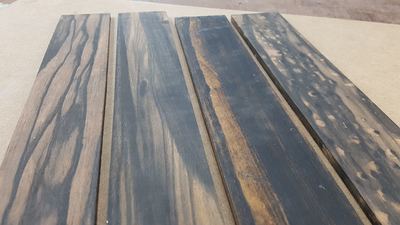 Measure twice, cut once...
I love the leopard figure. Stunning! I was recently quoted £40kg for solid Macassar ebony boards which are the left over material after veneer cutting. Lots of wastage due to dimensions, so work out pretty expensive per fretboard. Beautiful though!