Thanks to Marks' finishing course
Topic starter
21/03/2021 12:52 pm
On the back of Mark's new finishing course, I decided to have a go at the burst style of finish on my latest creation.
So:-
PRS Style carved top electric guitar.
Flamed maple on mahogany back finished in Sienna burst.
Mahogany neck with ebony fretboard and headstock faceplate veneer, inlaid with mother of Pearl triskelion and Logo.
Irongear PAF rolling mill humbuckers fitted with, 3 way toggle switch, CTS volume and split coil tap on the CTS tone knob. Topped with PRS lampshade knobs.
Gotoh SG381 locking tuners in gold with amber buttons.
Gotoh VSVG Vintage Tremolo Bridge in Gold,
Straplock buttons in gold.
Hope you like it.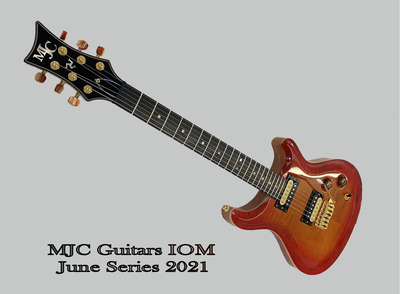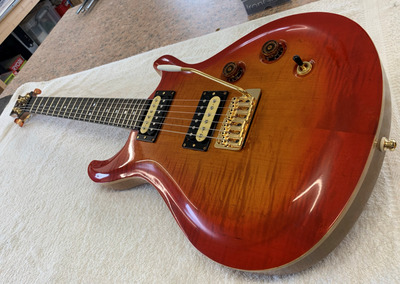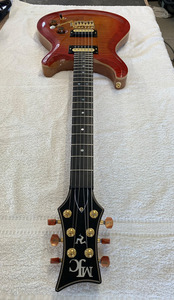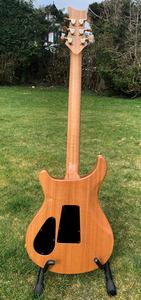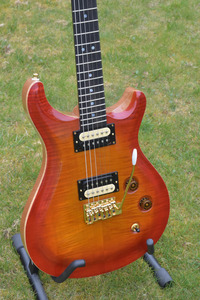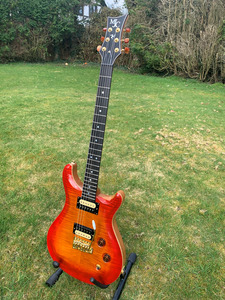 Next one has the maple neck and fretboard I've been talking about but that will have to wait a bit as there is decorating to be done (always keep the boss happy)
🤣 🤣 🤣