Fingerboard moved during glue-up - can it be rescued?
Topic starter
08/04/2023 10:28 am
I glued and clamped the fingerboard to the neck yesterday. This morning, after taking the clamps and caul off, I find the fingerboard has twisted off axis by about 1.5mm. 
I reckon it happened like this:
I have a little home made glue spreader (credit card with slots cut). It is (or I am) a little too generous with the glue.
The neck was in the vice, fingerboard positioned with pins and caul in place. I clamped up with 5 F clamps and then realised that, because the neck was in the bench vice, I'd put all the vices on the same side. So I quickly took the assembly off the vice and moved a couple of clamps around the other side to distribute the pressure.
There was quite a lot of squeeze-out, so I ended up wrestling this ungainly thing of clamps and wood around on the bench trying to get excess glue out.
I suspect one of the clamps took a knock and the fingerboard just slid a little.
I was very, very close to gluing the fingerboard caul to the fingerboard too. Again, this wouldn't have been an issue if I'd kept the assembly in the vice.
It's very difficult to take illustrative photos because of the wide-angle lens distortion. But that hasn't stopped me.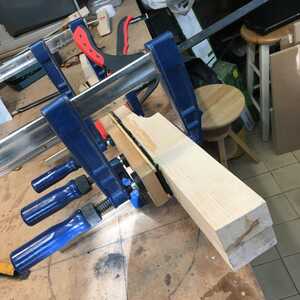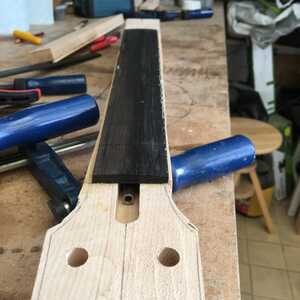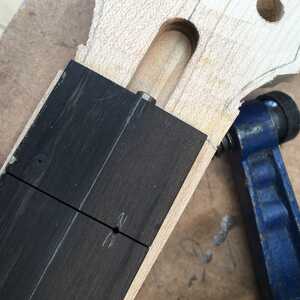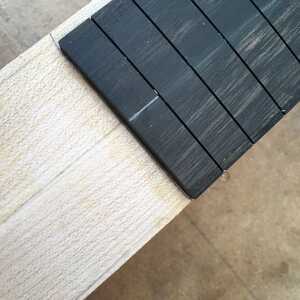 Jack of all trades and master of my own destiny. It's only a small destiny.