Hello ya'll; In for the long haul
Well,
for introductions, I'm going to use the handle Pocoranch7, my all time favorite band lads is/was a band called POCO, of which the [founding member] last man standing of the original band-mates, was Rusty Young, whom died a few weeks ago at 75 years - and still jammin'
(check out "Waitin' For The Sun").
POCO was doing Country /Rock when the Eagles were Baby Eaglets! Similar to your very own Long John Baldry, never really getting the recognition deserved, but well known in the music industry; I'm also a huge fan of Winwood's first solo album...never matched...!  That being said, I'm a drummer with legs, hips, and knees with arthritis, but playing guitar since 1970... self taught, just now studying tablature, etc ...mostly playing folk and country/rock and light jazz on drums and guitar...and a lot of Contemporary Christian  Worship music. Most of my time on guitar has been just jamming with others, which is what I love the most...and now getting carpal tunnel in my hands a bit.
However, I  raised a large family as a Land Surveyor - retired - and could never justify spending $3-$5 thousand on a custom guitar - not even $1200, so i bought the best i could and made that work. Now, I want to build my own acoustic guitar after I build a few electrics, as Mark says, "it's a good place to start." I found Mark and Carol's YouTube guitar workshop videos last month and haven't stopped watching, becoming a premium member just recently.
[ I loved the Lockdown Lucy guitar...] And, I figure after I've built around 10 to 100 guitars, I might learn what I'm doing and build myself a nice custom guitar, including a Resonator, for slide work. Love to hear from ya'll, I'm sure I'm not alone; I've enjoyed a few dialogues already with a few of you out there in the forum.
You can hear me play on some of my YouTube videos, primarily made for my friends and family - but be warned, I'm a genuine Jesus Freak, so there's a lot of just playing worship songs, not for the faint of heart. But, that being said, you might check out "Matthew B Scott, Morning Dew"  or "Matthew B Scott, Gasoline Alley" or tribute to Delany Bramlet/and Hank Wilson, or..."Front seat/backseat", or "All for Jesus" where I actually attempt to play some lead riffs, lol...friends and family...One I've written for my departed brother [RIP] called "Jupiter and the Jazzman"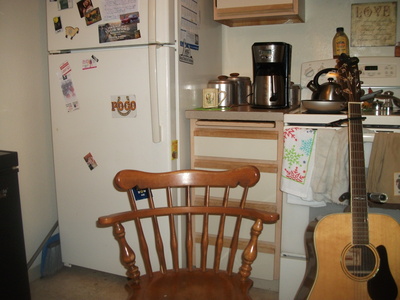 You have to put in the middle initial of Matthew B Scott or else you get like 5ooo matthew Scotts. Also, look for the Beatles Abbey Road icon , but it says All You Need Is Fish and the four mop-tops are fish in Beatles clothing -  in the crosswalk. I particularly enjoyed playing
" Whisper of Your Heart, " a great song by Trisha Yearwood; I sing it for my boyzzz...all men on there own with children of their own. Great Song...I can't wait to build a few dozen guitars so I can gain enough confidence and experience to start attempting a Resonator guitar. I hope to be a regular here, so stop by and say howdy...maybe someday we can have a pint...or, at least a nice hot Orange and Spice tea and kick out some jams...a little Apricot Jam, anyone??
Welcome to Matt's Kitchen; Lord willing, if I make it that long, ya just never know, we just lost Rusty...bummer. I'm really humbled to be starting out here with you guys and gals and enjoy Mark and Carol's laid-back style and demeanor and Mark's humility and honesty.
I'm looking forward to beginning this guitarmaking journey.
Matthew B Scott, <><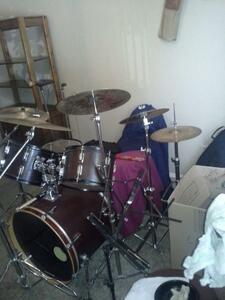 aka Pocoranch7
Oh yeah, 
I forgot to mention,
I'm a happily married Grandpa and [currently] reside in the Great Pacific Northwest, in Oregon, USA.
Happy Trails,
<>< Pocoranch7
Welcome @poco7
Always great to have a new member join the community and share their history and their building experiences!
Just follow the course, step by step (don't skip over any!) and take your time.
Measure (at least) twice before cutting.  And always really - really - make sure that the thing that's supposed to be stuck down really is *properly* stuck down before you start cutting around it!
That probably avoids 80%+ of the "learning opportunities" that tend to arise in building guitars.
😉
And post progress updates.  Lots and lots of progress updates.
Online guitar making courses – guitarmaking.co.uk
TV1.
l'm going to have to review using this site properly, but 'til then, thank you
for the advice and the greeting.
Poco7
@poco7 - if you put an "@" symbol in front of someone's username when you mention them in a post, then it'll "tag" them, and they'll get an email notification that they've been mentioned in a post (assuming that they've set up their profile to receive such notifications). 
Else they might miss that they've been mentioned or perhaps someone has asked them a question in a post (etc).
🙂
Online guitar making courses – guitarmaking.co.uk
Welcome to the forum and remember there's no such thing as a stupid question, which people often begin with. All questions are treated with respect apart from some of the long standing members who make fun of each other, it's part of being accepted. Living in Oregon you should be good for some quality acoustic timber.
Some people call me a tool, others are less complimentary. Tools being useful things.
@rocknroller912, @tv1, thanks for the "heads up"  guys...
I am going to look watch many videos as I begin my first build. I will remember that all questions are ok, and probably asked before. I have to start out working in my kitchen, so I'll post a few videos showing progress too, on my YouTube video channel, as I share a song or two. It's awesome to find people of like mind to join and converse with. <><
@tv1; thank you Brosky...[ or Sis?? ] I'm excited about this new adventure, and my wife is very supportive - she's always been " a musician's wife"
i think she's already thinking of whom we'll give a couple of guitars to, lol
<>< Pocoranch7
@tv1
Close @poco7 !
This forum uses two names which - confusingly - can be different.
For example, your username is pocoranch7.  @pocoranch7 doesn't work as a tag (you can see that in the post as the text doesn't change colour).  Your tag name is @poco7 which changes colour and tags you.
👍
To be honest, if I'd realised that when I signed up, I'd probably have picked the same name for both!
Online guitar making courses – guitarmaking.co.uk
Welcome @poco7. Good to have you here. Happy Building. 
Cheers,
Russ
🙂🎸🙏🎶
🗝️ "Life's what you make it"🗝️
Thanks, Brosky...I'm looking for a good used band saw locally,
also, i'm going to have to find out how much the government[s] tariff and tax, etc is on having stuff mailed from Scotland to Oregon...Doooh!
i'll start with a GM T-shirt...lol
<>< Pocoranch7
A little late to welcome you to the forum @poco7, but better late then never eh! 😎 
Enjoy the ride!
Thanks, Brosky
<>< Poco7
Phil Keaggy [awesome guitarist/artist] used to carry a neat T-shirt on his site:
"Love One Woman...Many Guitars" 
so I need to start building some guitars, I've only got about 5 of em...I say
'about 5' because i've given a couple out to my sons...loaned, borrowed given, it's all the same, they're  [ two guitars] their's now, lol...